Jul
14
Sat
Northern TUC – Miners' Gala After party

@ Redhills: Durham Miners Hall
Jul 14 @ 6:30 pm – 10:30 pm
Join The Northern TUC for their 150th Anniversary After-Gala Garden Party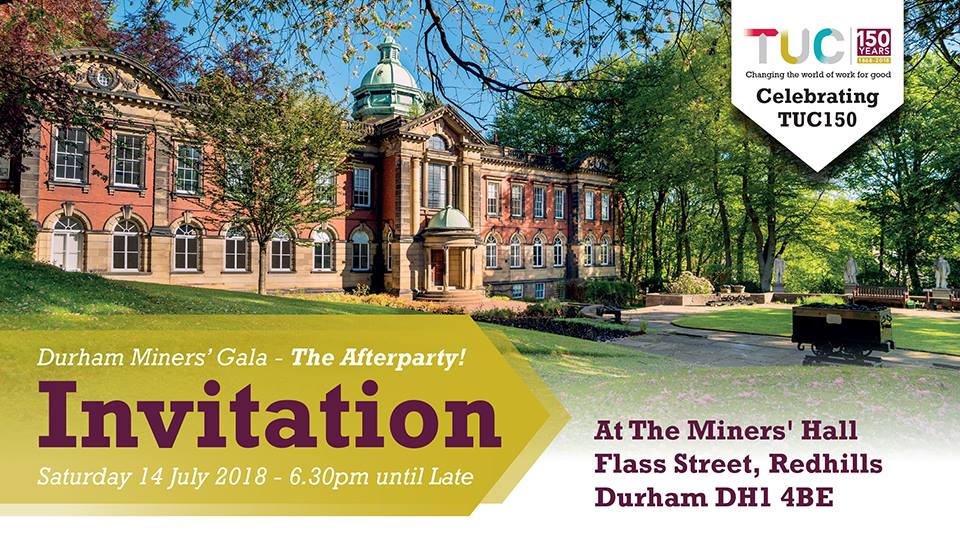 Following this years Durham Miners' Gala we will be hosting a Garden Party in the stunning grounds of Redhills, Miners Hall to celebrate the 150th Anniversary of the TUC.
We will be joined by leading figures from the trade union and Labour movement including TUC General Secretary Frances O'Grady and other friends of the TUC.
There will be:
DJ
Band
Free food
Special Guest Speakers
Beer Tent
Oct
7
Sun
Lucie Brownlee: The World Above

@ Redhills: Durham Miners Hall
Oct 7 @ 5:30 pm – 6:30 pm
Mining stories are integral to the history of County Durham; however, the stories of the women and girls who lived in the world above the pit are not heard as frequently as those of their male counterparts.
Durham Book Festival commissioned writer Lucie Brownlee to interview women in Easington, many of whom were activists during the miners' strike. In particular, Lucie will consider how living in 'the world above' the pits shaped the lives and characters of four women across three generations, spanning 100 years. Lucie will also undertake a residency in the archives at Redhills, home of the Durham Miners' Association, exploring the many stories of the mining community held there.
This special event will bring together Lucie Brownlee, with Durham activists Heather Wood and Charlotte Austin, to discuss the mining community of the past, and how the decimation of this community impacts the future for the women and girls who live there today.
The audience will hear a soundscape of the colliery women's voices and view a special light installation inspired by Lucie's research, situated in the grounds of Redhills.
Chaired by Dr Jennifer Luff, Durham University
Supported by Arts Council England
This event is part of Durham Book Festival