When:
8th December 2018 @ 6:00 pm – 8:00 pm
2018-12-08T18:00:00+00:00
2018-12-08T20:00:00+00:00
Where:
Redhills:Durham Miners Hall
Flass Street
Durham
DH1 4BE

A much-loved festive tradition is returning to the magnificent setting of Redhills: Durham Miners Hall.
The Durham Miners' Association (DMA) has announced the return of its annual Christmas Concert. Until the turn of the century, the concert was a highlight of the festive season for DMA members and their families, who would come to Redhills for a special brass band performance.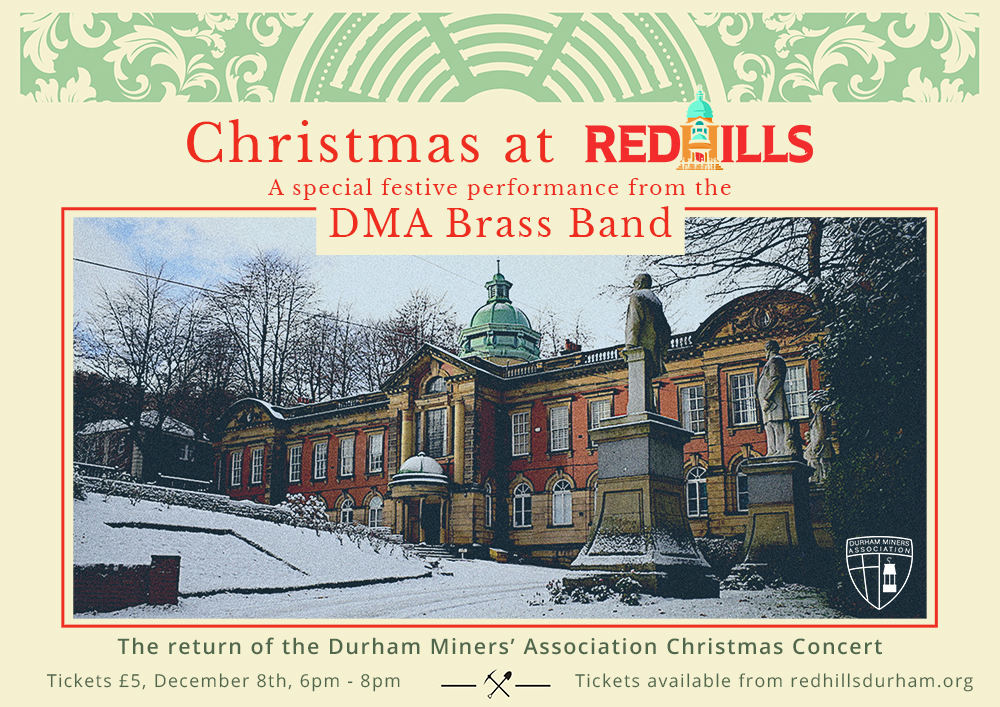 The concert returns to Redhills this Christmas – and everyone is invited.
The popular DMA Brass Band will perform in the magnificent Pitman's Parliament at Redhills on Saturday, December 8.
Tickets, priced just £5, are on public sale now. All proceeds from the event will go to help secure the future of the historic home of the Durham miners. Hot drinks and mince pies will be served.
Joe Whitworth, Chairman of the DMA, said: "We look forward to welcoming the public into our home this Christmas for a wonderful evening of music with the outstanding DMA Brass Band.
"The Christmas Concert was a festive highlight for many Durham miners and their families, and we are delighted that it is returning as a public event. This is in keeping with our plan to renew Redhills and return it to the people.

"We hope that this event will be the first of many, and that the DMA Christmas Concert will once again become a highlight of the festive season."
The Miners Hall, opened in 1915, was recently named as one of Historic England's top 100 places in the history of the country. For more than a century, it was at the centre of the work and culture of the Durham Coalfield. Today, the DMA is working to ensure the future of the Redhills for generations to come as a centre of education, heritage, and culture.