When:
24th October 2019 @ 6:00 pm – 8:00 pm
2019-10-24T18:00:00+01:00
2019-10-24T20:00:00+01:00
Where:
Redhills: Durham Miners Hall
Flass Street
Durham DH1 4BE
Contact:
Susan Ford, Programme Coordinator, The Common Room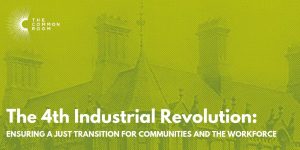 The 4th Industrial Revolution
describes the exponential changes to the way we live, work and relate to one another due to the adoption of cyber-physical systems, the Internet of Things and the Internet of Systems.
The Common Room and Redhills invite you to discuss, learn from and question our panel of experts on the 4th Industrial Revolution.
Chris McDonald, CEO of the Materials Processing Institute  Chris is Chair of the UK Metals Council, member of the North East Council of the CBI and Policy Chair for Innovation & Enterprise at the Federation of Small Businesses.
Beth Farhat, Regional Secretary of Northern Trades Union Congress Beth oversees the delivery of the TUC's campaign plan and the "North East Better Health at Work Awards", as well as representing the Northern TUC on several boards, including for Employment and Skills.
Gerald Moore, Philosopher of Technology at Durham University Gerald is co-director of the Centre for Culture and Ecology, and researches the political and social issues thrown up by automation, including the relationship between technology and the kinds of work we deem to be good, or life-enhancing.
Alison Reynolds, Strategic Human Resources and Organisational Development Consultant Alison is also a Chartered Fellow of the Chartered Institute of Personnel and Development (CIPD) and has a wealth of strategic experience within engineering and manufacturing.
For further details please contact The Common Room Programme Coordinator on 07825 438578 or email Susan.Ford@TheCommonRoom.org.uk