Sign up for our mailing list
Sponsor a seat
Take Your Seat in the Pitman's Parliament.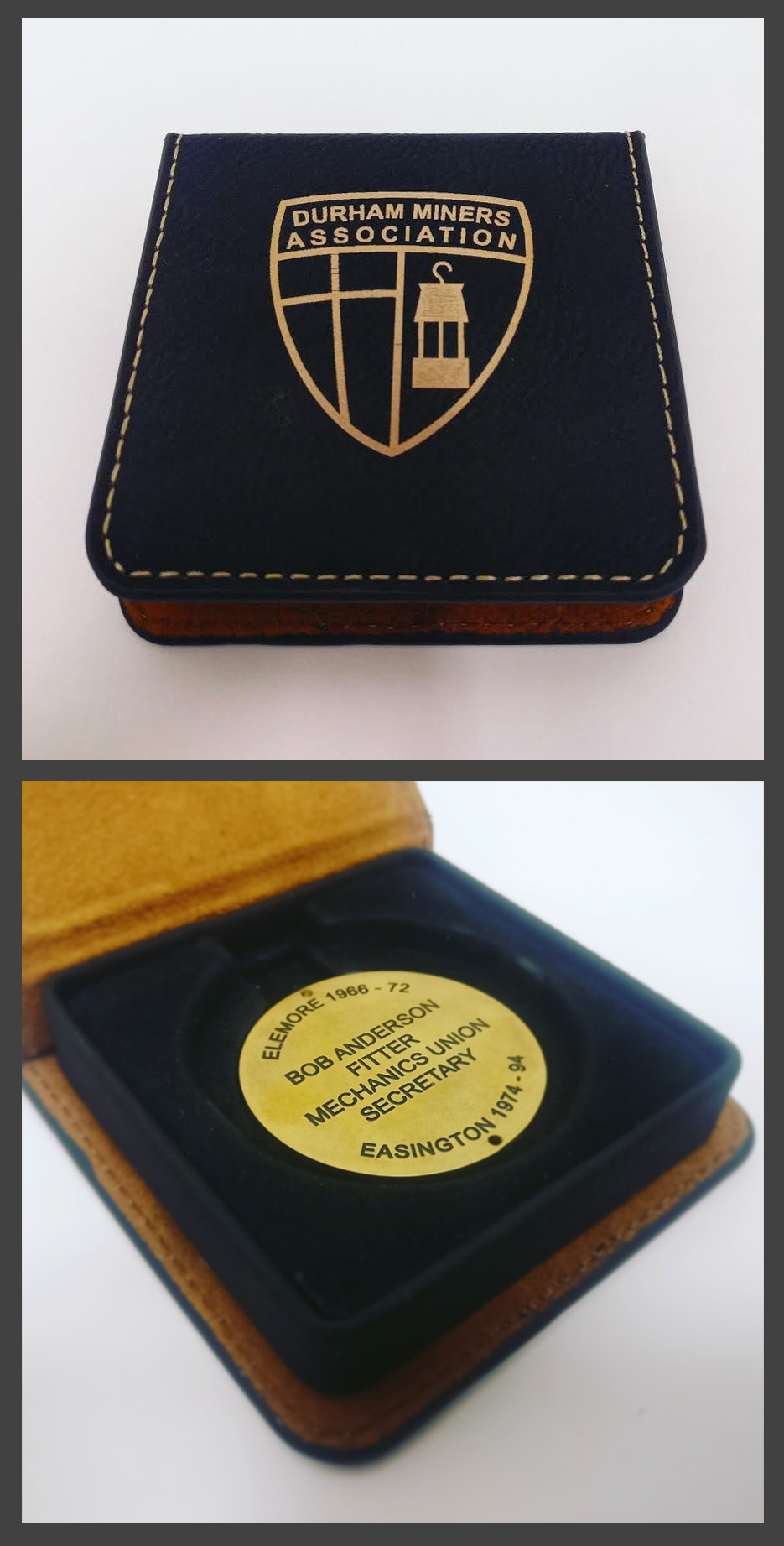 The Council Chamber is a unique, purpose-built trade union meeting place at the heart of Durham Miners' Hall. For almost a century, this impressive debating chamber was the scene of the deliberations and heated discussions which shaped the lives of our mining communities in the Durham coalfield.
Each Miners' Lodge sent an elected delegate to speak on behalf of the colliery workers, representing the interests of their area. Key issues would be debated and decisions voted on. Delegates would sit in a given seat with that seat number associated with their lodge. At present 150 of the seat numbers are known thanks to recently discovered list of colliery numbers from December 1950.
Now over a century on from its opening, our sponsorship scheme allows you to have a replica pit token engraved with your message embedded into a seat of your choice, becoming a part of the permanent fabric of Redhills.
***Please note that due to the closure of Redhills for a major programme of restoration and renewal, you will not be able to view your token on your sponsored seat until Redhills reopens in Spring 2023***
Please click the button below to download the form. You can then fill this in using a word processor, such as Microsoft Word, and send by email to:
admin@redhillsdurham.org
Alternatively, print your form and post to: Redhills Durham Miners Hall, Durham, DH1 4BE.
A full list of the 150 seats is available – please click the button below.
View lodges & numbers
Seats: Lodges and Numbers
Lodge Name and Seat Number
Addison — 2
Adventure — 157
Allerdene — 128
Axwell — 117
Beamish — 78
Bearpark — 80 (FULL)
Bessie Pit — 155
Black Boy — 3
Blackhall — 156
Blaydon Burn — 70
Boldon — 66
Bowburn — 151
Bowdon Close — 21
Brancepeth 1 — 58
Brancepeth 2 — 59
Brandon — 82
Browney — 81
Brusselton — 181
Burnhope — 16
Burnhopefield Drift — 188
Butterknowle Q — 90
Byer Moor — 28
Chester Moor — 38
Chilton — 140
Chophill — 79
Chopwell — 131
Clara Vale — 129
Cornsay — 55
Craghead — 104
Crook Drift — 182
Crookhall — 169
Dawdon — 149 (FULL)
Deaf Hill — 57
Dean & Chapter — 142
Derwent — 93
Dunston — 121
Easington — 153 (FULL)
East Hetton — 56 (FULL)
East Tanfield — 163
Eden — 39
Eldon Drift — 184
Elemore — 134
Eppleton — 11 (FULL)
Esh — 41
Esh Hill Top — 141
Etherley Dene — 193
Etherley Jane — 164
Fell Wall — 194
Finchale — 186
Fishburn — 159
Follonsby — 52
Frankland — 191
Gordon House — 118
Greenside — 148
Hamsteels — 30
Hamsterley — 36
Handon Hold — 106
Harraton — 12
Harton — 45
Hebburn — 42
Hedley Hope — 139
Hedley Pit — 124
Hetton Lyons — 167
Heworth — 53
Hobson — 25
Horden — 145 (FULL)
Houghton — 63
Hylton — 135
Kibblesworth — 13
Kimblesworth — 86
Lambton — 34
Langley Park — 84
Leasingthorne — 17
Littleburn — 43
Louisa New Pit — 137
Lumley — 72
Mainsforth — 83
Malton — 120
Marley Hill — 33
Marsden — 105
Medomsley — 92
Monkwearmouth — 69 (FULL)
Morrison — 125
Morrison Busty — 173
Murton — 1 (FULL)
New Brancepeth — 40
Newfield Drift — 185
New Hargill Hill — 190
New Herrington — 88
New Shildon — 195
Newton Cap — 73
North Bitchburn — 103
North Hetton — 54
Ouston E — 122
Pelton Fell — 19
Philadelphia — 65
Princes Street — 192
Railey Fell — 127
Ramshaw — 187
Randolph — 108
Ravensworth — 15
Roddymoor — 110
Rough Lea — 95
Rowlands Gill — 102
Ryhope — 68
Sacriston — 123
Seaham — 51
Sherburn Hill — 71
Shield Row — 87
Shildon Lodge — 24
Shotton — 138
Silksworth — 77
South Garesfield — 111
South Hetton — 26
South Medomsley — 116
South Moor 1 — 113
South Moor 2 — 161
South Pelaw  — 126
Spen — 29
Stargate — 85
Tanfield Lea — 5
Tanfield Moor — 6
Thornley — 119
Thrislington — 94
Towneley — 9
Trimdon Grange — 62
Tudhoe — 44
Twizell Burn — 171
Urpeth  — 35
Ushaw Moor — 115
Usworth — 67
Vane Tempest — 174
Victoria Garesfield — 76
Waldridge Drift — 183
Washington — 64
Washington Glebe — 144
Watergate — 170
Waterhouses — 49
Wear Valley — 152
West Auckland — 75
West Hunwick — 162
Westoe -46
West Thornley — 32
Wheatley Hill — 114
White House — 180
Whitworth Park — 175
Wingate — 50
Witton — 112
Woodlands — 132
Wooley — 23