Welcome to Redhills, the beating heart of County Durham. Exciting things are happening.
Work is underway to bring Redhills to life and fundraising events have already begun. You can support the project by buying a Pit Token here or you can donate to the appeal here . To find out about upcoming events at Redhills follow our our Facebook page here.
The new, comprehensive Redhills website is in development and will be launched soon, in the meantime subscribe to the mailing list to learn about developments.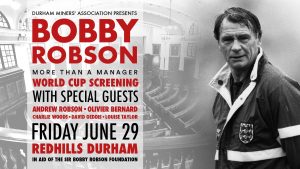 NEXT EVENT:
Bobby Robson – More than a manager
Film screening and Q&A
CLICK HERE for tickets and full details